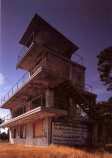 Discover the Kyritz-Ruppiner Heide
...wide ranges of forest lands, enchanting lakes, meadowlands, pastures and organic farms are the characteristics of this picturesque part of Germany. Charming small towns and old farming villages are framed by this beautiful landscape and invite the visitor to linger. Visit Rheinsberg, Neuruppin and Wittstock for shopping and sight seeing. Check out the museums in the afternoon or enjoy an evening of theatre or classical music. Experience the countryside and the villages of the region and visit the numerous old churches built long ago.
Discover the unique nature on foot, horse back or by bike or boat.

In the midst of this region lies a former military exercise area of the Russian army. Since their withdrawal in the early 1990s a unique habitat has developed that provides shelter for many highly endangered plant and animal species.

The peace and quiet of the area and the awe inspiring nature are the real treasure of this part of our country, which is enjoyed every year by the locals as well as agrowing number of visitors. In the last few years much has been invested in the development of the area for tourism.

But right in this lovely landscape 80 kilometers in the north of Berlin the German government plans to establish the largest bombing range in Europe!

There is determined resistance against these plans from the local population.

After 1950 the Russian army had established a 142 km≤ bombing range between the towns of Wittstock, Rheinsberg, Neuruppin and Kyritz largely by confiscating land.
Since the Russian army left, the German army has laid claim to the area without having gone through the proper legal requirements.

In response to this a citizensí initiative called FREIe HEIDe (a word play on "Freiheit" - "freedom" in Germany) was founded in 1992 in Brandenburg State and the action group Freier Himmel (free sky) in 2001 in the State of Mecklenburg-Vorpommern.

Through protests, demonstrations, collection of signatures as well as donations and the like publicize the issue, and support various legal actions such as law suits brought by communities and individuals against the planned bombing range.
All these efforts have made it possible to prevent the bombs and the noise of fighter planes in the area for many years.
We need and appreciate your continued support four cause.